Have you ever needed to download members' personal data? Or do you need members' transaction history for your marketing/finance team analysis purpose?
All data can be accessed from the dashboard and ready to be downloaded anytime, as easy and quick as snapping your finger. Moreover, there are several panels to give you a summary of your members' performances. Drive Impact with Great Insight!
See it in action below
Insight Page
Insights menu summarizes your brand performance and contains panels that show various parameters in numbers and charts to help you understand your members better.


Member Page
This page provides members' information from brands and members' growth trend. Some of the information displayed here are the name, telephone number, age, birthday of the member. Members Menu is broadly divided into two sections, namely Summary and List.
Store Page
This menu will show the performance of each branch based on the rating given by the members. From this view, you can sort the rating based on the date given, also see the rating given per branch during a specific period (daily, weekly, monthly). Moreover, you can compare different branches' ratings by clicking 'Store' and can choosing a maximum of 5 branches at a time.

Download Data
Any data can be downloaded by clicking the "download" button. The download data will be sent to your email. Simply insert your email address and click "Send to Email". The data is now on its way to your email inbox, ready to be downloaded anytime.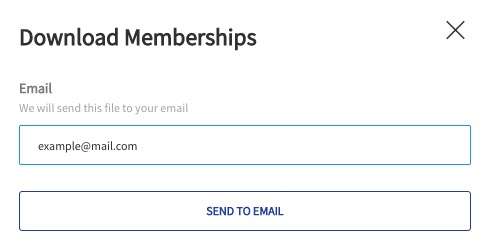 Utilize members' data by filtering, reviewing, and analyzing the dashboard. You can use the data to know your members' behavior and assist you in making business decisions and short-term or long-term strategies.